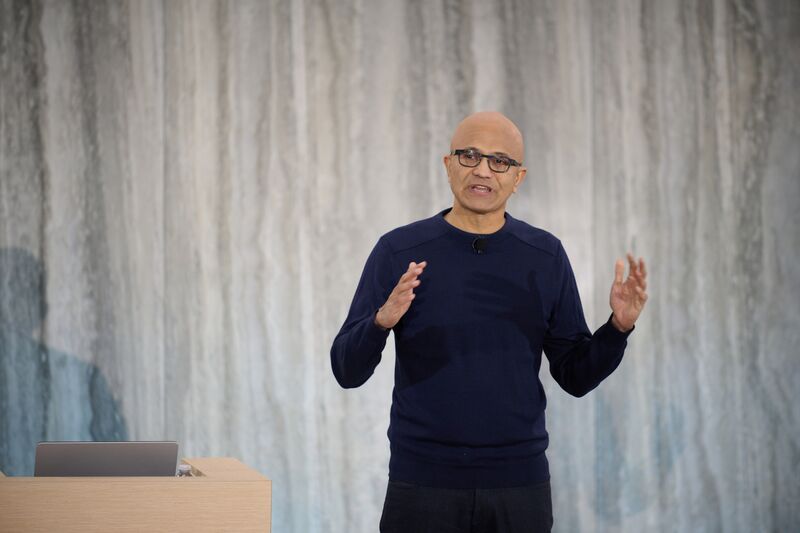 Microsoft's latest front in the war with Google may not be entirely what it seems. But first…
Today's must-reads:
• China will pour $1.9 billion into a memory chipmaker
• Microsoft and Activision met with a UK watchdog
• The EU is contemplating antitrust and the metaverse
Satya Maximus
In 217 BC, the Roman dictator Fabius Maximus conceived a novel strategy in the war with Carthage. His opponent, Hannibal, had won several devastating battles, and the Roman people were ready to try something different.
Fabius knew Hannibal liked to fight and had the military power to do so effectively. Instead of meeting Carthage head on, Fabius studiously avoided large confrontations. He sent small attack units to bait Carthaginian troops into unfavorable situations and then wage havoc by destroying their food supply or by simply finding ways to prolong Carthage's march. That ended up costing Hannibal's large army far more in resources than it did Rome.
They didn't have chatbots in 217 BC, but there are parallels with today's battle between Microsoft Corp. and Google.
The search war has never been much of a competition between the two companies, but it's a profitable one. Executing a web search is fairly cheap, and the ads account for most of Google's $283 billion in annual revenue. Microsoft managed to turn a profit on Bing, too, more than seven years ago, despite its tiny market share.
Alphabet Inc.'s Google stands to lose a lot more if there were a fundamental shift in how people search for things on the internet. That shift isn't a given. Developing a competent, reliable chatbot is expensive. Potentially even more costly is the ongoing expense of people interacting with the product.
The computational demands of generative artificial intelligence are exorbitantly high. An analysis of open-source software similar to what drives Bing's chatbot or Google Bard estimates the cost of a query at 11¢, according to Alan Ritter, a computing professor at Georgia Tech.
What exactly it costs Google or Microsoft is a secret. They have their own cloud infrastructures that can be optimized to work more efficiently with their proprietary chatbots, said Ritter, who studies natural language processing.
Sam Altman, a Microsoft ally who runs the startup behind ChatGPT, has only said it's "probably single-digits cents per chat." Morgan Stanley estimated the cost of a ChatGPT query at a more palatable 2¢.  Even that is a steep premium to a traditional web search, which can be done for a fraction of a penny, Ritter said.
Perhaps a chatbot becomes so accurate that Google or Microsoft will be able to justify a substantial increase in advertising rates. That hasn't happened.
If every web search were to suddenly switch to a chatbot conversation tomorrow, Bing's margins would suffer, but Alphabet's would take an absolute beating. Even in a scenario where Google appears to win, it actually loses.
This is where the Fabian strategy comes into play. For more than a decade, Microsoft's Bing has run a traditional battle plan on Google, with paltry results. Now the hype around Microsoft's chatbot is ratcheting up pressure on Google to match it — likely at a great cost to the company.
Meanwhile, the Bing chatbot is only available to a limited number of people — there's still a wait list — and in a limited way — on a search engine few people use, within a similarly unpopular Microsoft web browser or in an update rolling out to Windows 11.
A creative interpretation of the strategy is that Microsoft isn't competing to be the No. 1 search engine but that it's attempting to reimagine aspects of search in a way that's less lucrative for everyone — effectively luring Google into little skirmishes it won't win. The question is whether Google engages. It has said it'll release its own chatbot but hasn't committed to building it into search results in the way Microsoft has.
It sure sounds like Microsoft Chief Executive Officer Satya Nadella hopes Google takes the bait, though. "They're the 800-pound gorilla," Nadella said in an interview with the Verge. "And I hope that, with our innovation, they will definitely want to come out and show that they can dance. And I want people to know that we made them dance."
The big story
"Profit" is the new magic word at Salesforce. Marc Benioff is feeling pressure from five activist investors eager to see management changes and boosted margins.
Get fully charged
The FTC barred online mental health company BetterHelp from sharing data with Facebook and other social media giants for advertising purposes.
The UK's Supreme Court will decide whether an AI can be named as an inventor on patents.
Foxconn agreed to invest in new electronics manufacturing in southern India as the company looks beyond China.
Broadcom, one of the world's biggest chipmakers, gave a positive revenue outlook for the current quarter, a sign that corporate networking infrastructure is still seeing strong demand.
More from Bloomberg
Listen: Foundering: The John McAfee Story is a new six-part podcast series retracing the life, the myths and the self-destruction of a Silicon Valley icon. Subscribe for free on Apple, Spotify or wherever you get your podcasts.
Watch: The Future With Hannah Fry explores the potential of life extension, emotionally sensitive computers and more in this Bloomberg Originals show.
in your inbox: